Car Cost Advisor
The market reference for TCO and car taxation.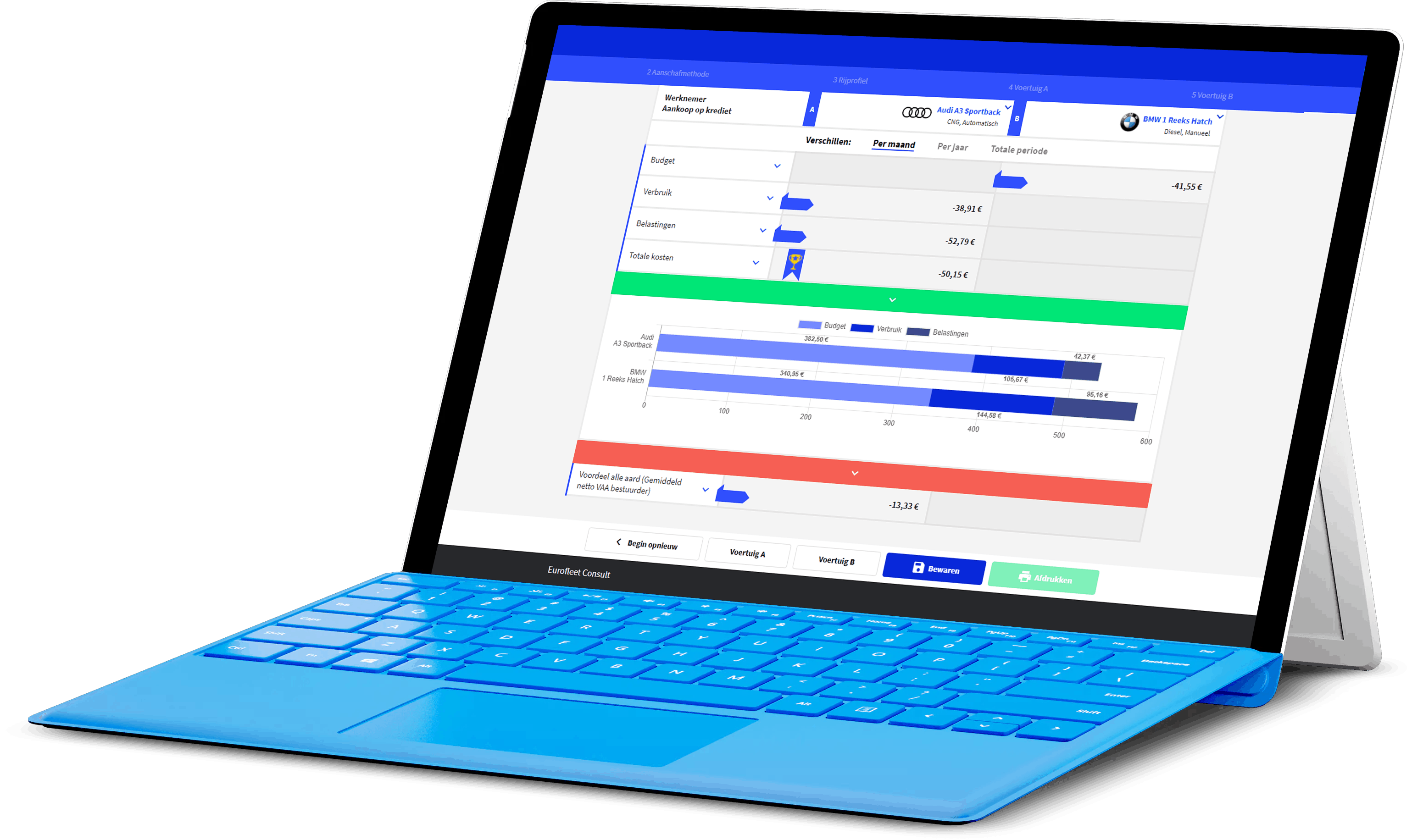 Stay on top of the latest developments. 

A must have tool for automotive retailers.
Car Cost Advisor is a unique web application tailored to the car salesman, which translates current car taxation into an objective customer argument.
Choosing the right car is difficult enough in itself. The evolution of CO2 emissions, the successive changes in tax regimes and the various financing options have increased uncertainty in making the right decision and made it more complicated. The concept "Total Cost of Ownership (TCO)" has lost credibility as an objective factor of predictability and certainty.
How can car salespersons calculate the running costs of a new car, adapt their offer to the requirements of different types of customer and thus objectively compare the different powertrains?
Every step in the development of Car Cost Advisor is based on a precise idea: to help the showroom and fleet salesman to give the customer sound advice when choosing between different engines. Fully adapted to the user profile of the vehicle and with a tailor-made TCO approach: simple or fully detailed. This way, no complicated calculations for the salesperson. Fast and clear, and with all the parameters that can be adjusted.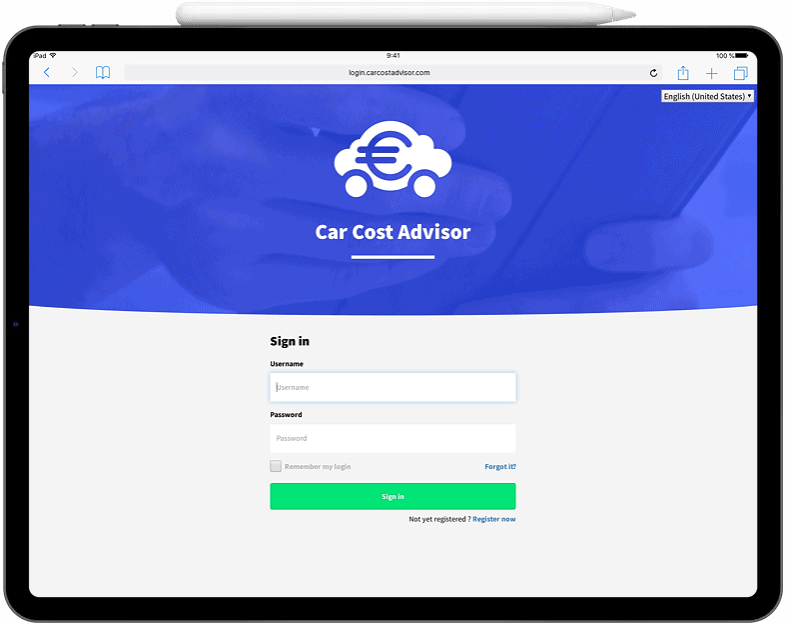 Devices
Tablet, laptop and desktop format according to your own preference.
Tailored URL
Specific URL tailored to your needs on our environment carcostadvisor.be.
GDPR
Fully GDPR-compliant, secure personal access per user.
Save calculations
Individual user environment to save and re-access created calculations.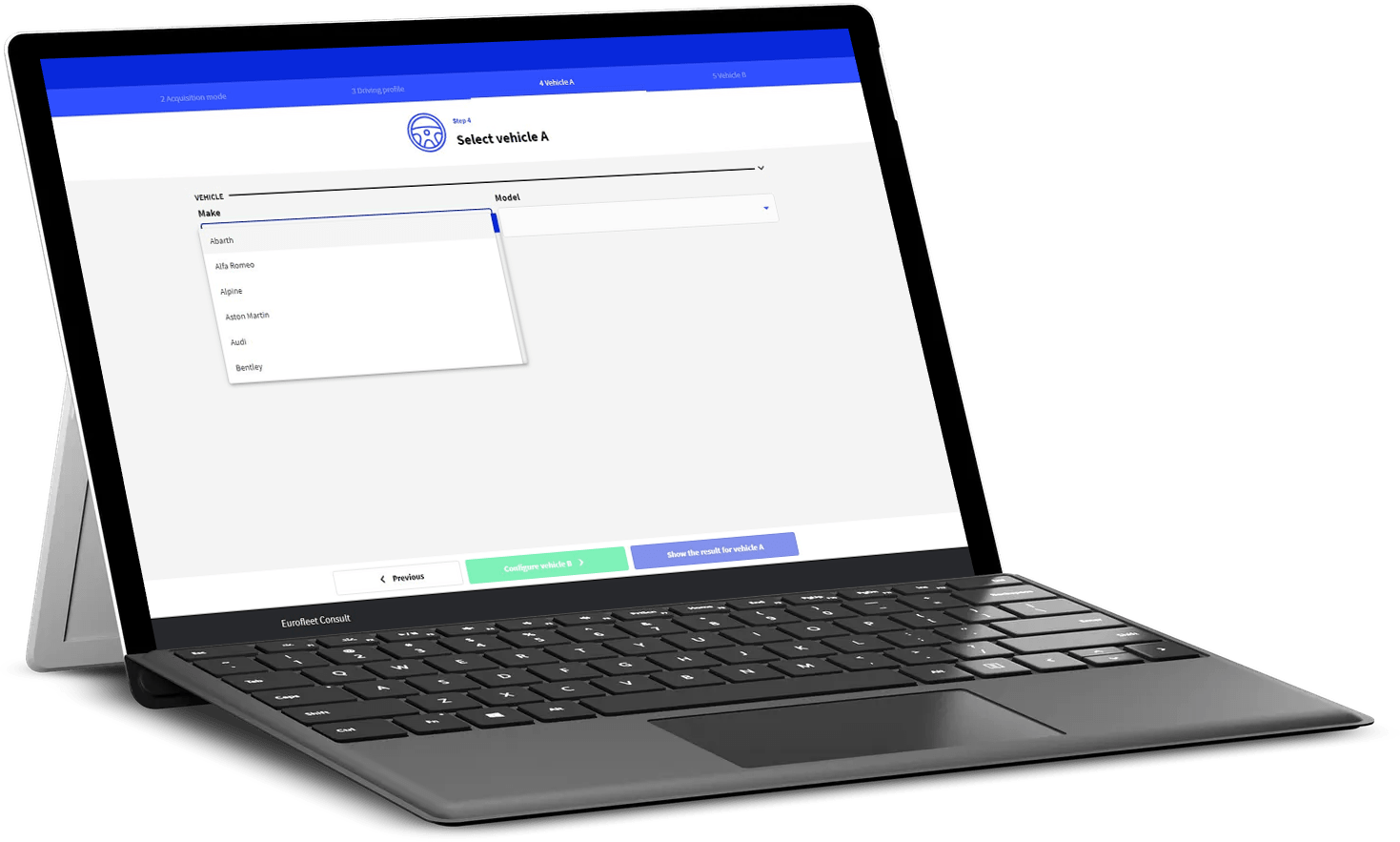 Languages
Available in 3 language versions FR, NL, EN
Updates
Continuous update of federal and regional car taxation
Vehicles database
Real-time database with all commercialized versions of passenger cars and light commercial vehicles
Fiscal
Fully tailored to 4 fiscal main profiles.
We continuously monitor all car taxation for passenger cars and light commercial vehicles in Belgium. And we adjust the calculation parameters so that users can always be sure to advise considering the latest developments. We share new products with our users via the homepage and webinars.
A real-time database collects tax and consumption data from more than 9,000 vehicles. Manual entry is therefore limited to what is strictly necessary.
The Car Cost Advisor works flexibly on PCs, laptops and tablets. Six simple steps lead to a display that shows the different TCO levels: the direct costs and the results before and after-tax. Also, Car Cost Advisor produces different PDF versions in 3 languages, eventually allowing the customer to provide the information to his accountant.
Besides, the accuracy of our calculations has been audited by PriceWaterhouseCoopers.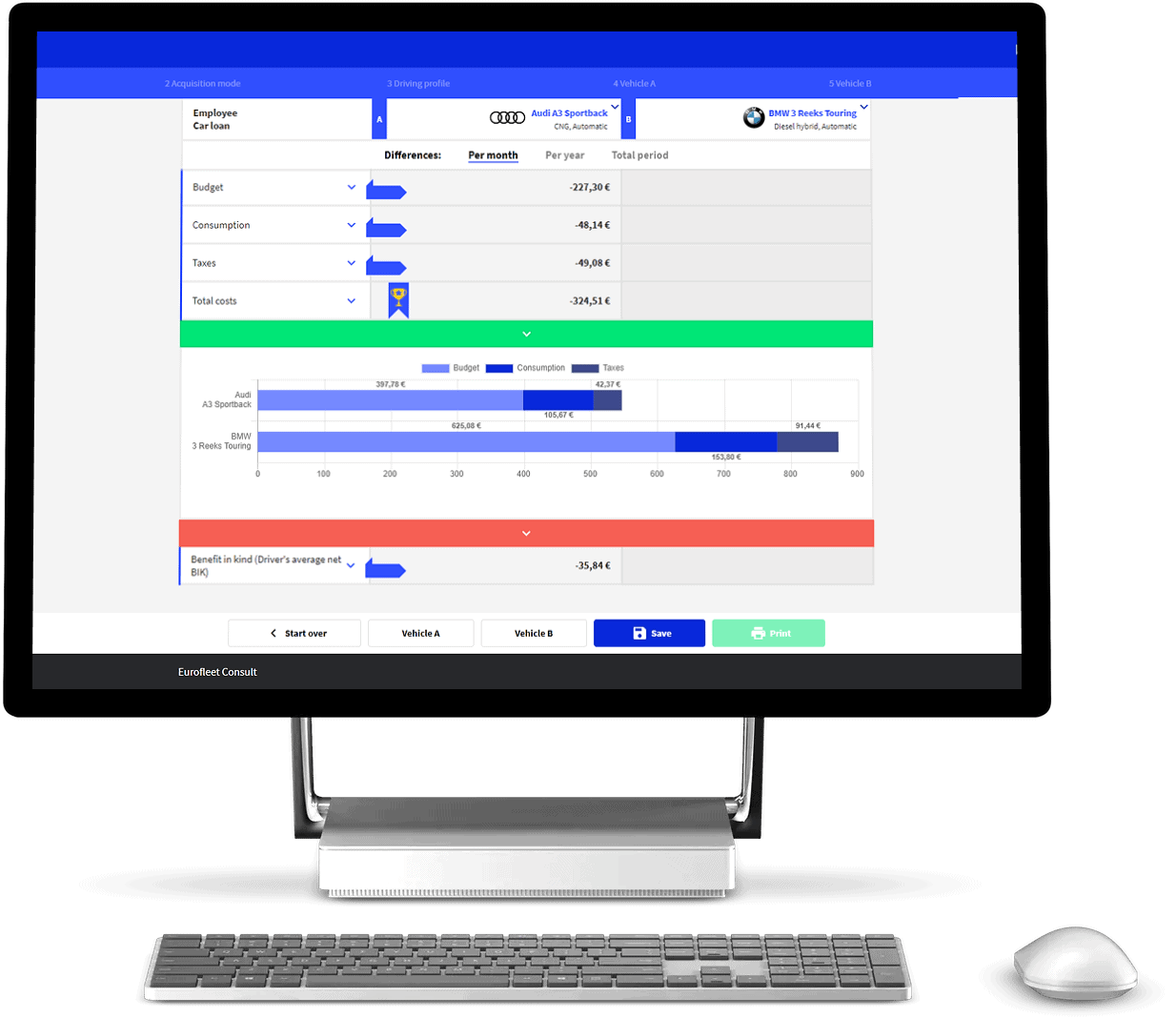 TCO
Variable calculation methodology for TCO 1, TCO 2 and TCO3
Compare
Calculation for 1 vehicle or comparison between 2 vehicles.
Calculations
Calculations of fuel consumption according to standard or manually adjustable consumption figures.
PDF generator
Detailed PDF generator with summarised and detailed prints.
25 years
More than 25 years of experience and knowledge of car taxation and TCO for the development of
Car Cost Advisor.
Training and expertise included.
We have put all our knowledge and more than 25 years of experience in the field of car taxation and TCO into the development of Car Cost Advisor. A training session is planned. We guide your users through short or long training modules to enable them to discover the full power of a TCO argument. These sessions can be virtual or face-to-face. We also offer e-learning modules on car taxation and assessments. This training programme is fully customisable according to actual needs.
Check out Car Cost Advisor
Car Cost Advisor is a must-have tool for every automotive retailer. In just 6 simple steps, the automotive salesperson can translate the current car taxation into an objective customer argument. It is even possible with the application to compare multiple vehicles with each other. The result is that the customer can make the right decision with full knowledge.